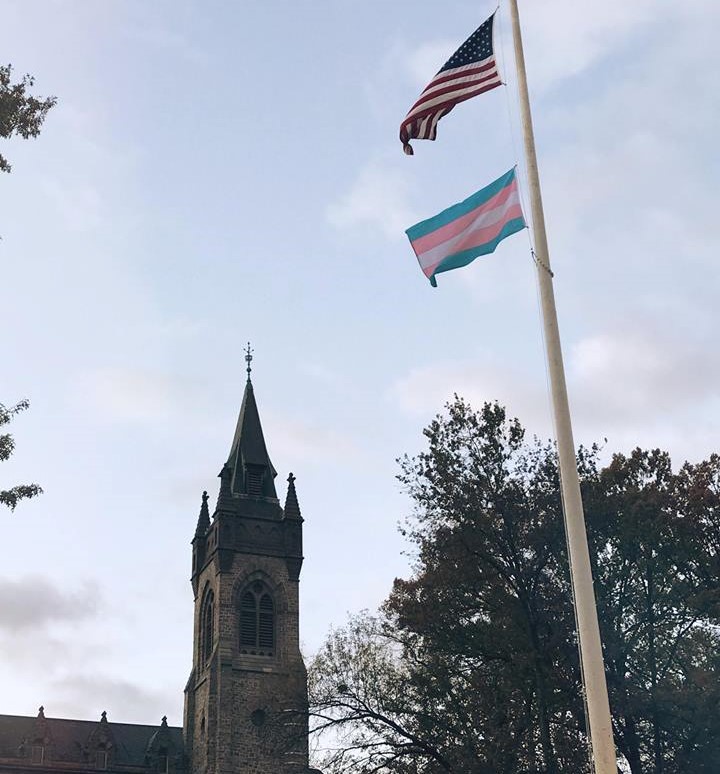 This page is dedicated to providing resources to transgender, gender non-conforming, and/or gender questioning students, staff, and faculty at Lehigh University.
Helpful Resources, Tips, and More!
If you have questions or concerns not addressed on this page, please feel free to contact us at pridecenter@lehigh.edu or by phone at 610-758-4574.
Lehigh University's non-discrimination policy includes gender identity and gender expression. Students may anonymously report bias incidents relating to gender identity and/or expression as well as any other identity by using this form.
Pride Center staff and other University stakeholders are actively working on updating Lehigh's internal policies & systems to better meet the needs of transgender community members.  Currently, students who have obtained a legal name and/or gender change must bring proof of the change to the Registrar's Office in order to have the change updated in all University systems.  More information about state-by-state regulations for changes on identity documents can be found here.
Students who have not obtained a legal name change can designate a chosen name that will update the name that displays when they send emails.  In order to do this:
Sign into your Google account. 

In the top right corner, click on the gear.

Select "Settings."

Select "Account."

In the "Send mail as" section, locate the email address you'd like to edit and click "Edit Info" next to the email address.

In the "Name" section, specify your chosen name and click "Save Changes."
Unfortunately, if you have sent emails with an old name, your name may not update for all others who you have emailed. Feel free to encourage them to follow the following steps to update a contact's name in their gmail account:
Click on the 9 little squares in the upper right hand corner.
Go to contacts (you may have to select "more").
If you have saved their information, you can edit it directly.
Otherwise, you may have to go to "frequently contacted," which is on the left hand side. 
This lists everyone that you have emailed, and you can find the old name and directly edit it. 
Students who have not obtained a legal name change can also update their name in Banner so that their chosen name appears on on-campus housing rosters.  In order to do this:
Log into the Connect Lehigh portal. 

Click "Banner."

Click "Personal Information."

Click "Update Preferred First Name."
You can also update your chosen first name on LINC (Lehigh Involvement Connection) by opening your profile settings and entering in your chosen first name.
Students who have not obtained a legal name change can also designate their chosen first name to appear on their Lehigh ID card rather than their legal name.  To receive a new Lehigh ID card that displays your chosen name at no charge, contact pridecenter@lehigh.edu with the name that you would like on your card, along with your LIN.  Please note that there may be situations where legal identification is required in which your updated Lehigh ID card will not be sufficient.  These situations may include, but are not limited to: picking up financial aid or payroll checks, picking up transcripts, & attendance at exams.  Please be prepared to present 2 forms of ID in these scenarios.
Note: Currently, this option is only available to students who identify as transgender, gender non-conforming, or non-binary.
Transgender students may also get their chosen first names updated on CourseSite. Please email swb216@lehigh.edu for assistance with this. 
Unfortunately, chosen first names do not currently display on course rosters. Some students may choose to email their faculty members before their first class to indicate the name they go by to minimize confusion and the potential for revealing personal and/or medical information. See the sample email template provided below as an example:
Dear Dr./Prof. _________,
I am registered for your (name of class) this (fall/winter/spring/summer (semester).  The name you will see for me on the generated roster is incorrect.  My name is _________.  Please refer to me using ______ pronouns.  If you have a TA assisting with your course, please pass this information along to them as well.
Thank you,
(Signature) 
The team at Lehigh's Mail Center are committed to inclusively and equitably serving all students. If you are a transgender and/or non-binary student who would like a name different from your legal name used at the Mail Center (for packages and other mail), your name can be manually updated by contacting the Pride Center at pridecenter@lehigh.edu, Doug Snyder at dcs312@lehigh.edu, or by going to the Mail Center directly and speaking to a supervisor or manager on duty.
Lehigh University participates in Merit Pages. Lehigh uses Merit Pages to send news of students' accomplishments like Dean's List, leadership awards, scholarships, graduation, and more to your hometown newspaper and on social media. If you would like your chosen name to be part of your profile and those announcements, be sure to update your Merit Pages profile directly. That can be done through 
https://lehigh.meritpages.com/
 or through email when prompted to establish your account. You can also reach out to 
communications@lehigh.edu
 if you're not able to access your Merit Pages account.
Orientation & First-Year Experience
Transgender first-year students are encouraged to sign up for a mentor through the Mentor Collective, a peer mentorship program designed to help you make the most of your first year of college. In the Mentor Collective registration survey, you will be able to sign up with your chosen name and input your gender identity. First-years who are interested in trans-specific mentorship can contact the Pride Center at pridecenter@lehigh.edu for more information about our Iris mentorship program and the peer-led TGNC group.
Lehigh University's Residential Services and Residence Life teams are committed to working with all students to ensure their on-campus housing arrangements meet their needs and provide a safe and harassment-free living environment. With the understanding that all students have different needs, both admitted and returning students are encouraged to contact Christina D'Aversa at cnb5@lehigh.edu or 610-758-3500 to discuss options for living on-campus. Because of space limitations, students who contact Residential Services early in the housing assignment process will have more flexibility in their options.
Options for housing are dependent on vacancies and availability, and could include the following:
​A single room with a private bathroom on a single-gendered floor

A single room with a common bathroom on a single-gendered floor

A double, triple, or quad room with a common bathroom on a single-gendered floor

A double, triple, or quad room with a common bathroom on an all-gender floor

A double room with a private bathroom on a single-gendered floor

A suite-style room (4 people) with a shared bathroom on an all-gender floor

An apartment-style room (2, 3, or 4 people) with a shared bathroom on an all-gender floor
Lehigh University's Health & Wellness Center is committed to providing inclusive care for all students.  Currently, the Health & Wellness Center refers students seeking hormone treatment to a valued community provider. However, if a student has a current prescription for injectable hormones and would like help learning how to self-inject, a Health & Wellness Center nurse is available to assist. More information about Health & Wellness Center services can be found at www.lehigh.edu/health or by calling 610-758-3870. Contact pridecenter@lehigh.edu for more information about community health providers with expertise in transgender care.
University Counseling & Psychological Services is committed to providing inclusive, competent care for students of all genders and sexualities.  UCPS staff will work with all students on a case-by-case basis to determine treatment that best meets their needs, which may include individual counseling, group counseling, and/or referral to a community provider.  Students wishing to receive care or get consultation from counselors in the UCPS office can make an appointment by calling 610-758-3880.  An on-call counselor is also available for crisis assistance after hours and can be reached by calling this number and pressing "0".
Beyond care for basic services through the Health & Wellness Center and Counseling & Psychological Services, all undergraduate and graduate students have access to the University-sponsored health insurance plan, which includes coverage for hormone treatment as well as many gender-affirming surgeries for transgender individuals.  For more information about enrolling in this plan, visit this link. For information regarding medical coverage for gender-affirming surgeries under the student health insurance plan, click here.
Gender Inclusive Restrooms
Lehigh University affirms the right of all students to use the restroom according to their gender identity without fear of harassment. If a Lehigh University student or guest should wish to utilize them, our campus also has single-stall, gender-inclusive restrooms in most academic and residential buildings.  A map can be found here.
The Lehigh University Athletics Department is dedicated to upholding the University's commitment to inclusion of and equal opportunities for transgender athletes.  We abide by NCAA's policies on transgender student-athlete participation (more information can be found here). 
Fraternities & Sororities
Did you know trans students can join a fraternity or sorority?  
Fraternities and sororities set forth their own membership requirements within their constitutions, bylaws, and governing documents, and decisions about membership are oftentimes based on a potential recruit's character, values, and ability to connect with other members.  Additionally, a fraternal organization can commit to trans inclusion while also maintaining its identity as a fraternity of men or a sorority of women.  With this in mind, Lehigh's Office of Fraternity and Sorority Affairs supports equal opportunities in a safe and respectful environment for all students regardless of gender or sexuality, and affirms the ability of transgender students interested in affiliating with a Greek organization to join based on their gender identity.
Trans students should not have to guess and hope their way into fair consideration for membership in a fraternal organization, and there are a number of resources available to you.  The Lambda 10 Project has developed a Fraternity & Sorority Resource Guide to create awareness and education around issues of gender identity and gender expression within Fraternity and Sorority Life.  This resource is intended for students interested in exploring Greek membership, current affiliated students, and others. 
Students are also encouraged to contact Fraternity and Sorority Affairs at infrasor@lehigh.edu with any questions regarding the recruitment process and membership.
Religiously Affiliated Organizations
The Chaplain's Office serves the university's mission to advance learning, to respect human dignity, and to cultivate enlightened citizens through the moral and spiritual development of all members of the community. The Chaplain's Office serves a religiously diverse community and without reservation endorses and celebrates the University's inclusion and diversity policies, including those provisions related to transgender persons.  Membership in student religious organizations (clubs) is open to any student.  Religious clubs are required by their constitution to subscribe to the ideals and policies of the organization and the University regarding membership, including policies on diversity and inclusion, although in respect for religious freedom, a religious group may specify requirements for members holding leadership positions and participating in particular rituals.
Pages
Alumni who have legally changed their names may request a duplicate diploma with their updated legal name by following the procedure outlined here and including a copy of the court order authorizing your legal name change. This request will also update your legal name on your transcripts and in the degree verification system. Should you have any questions about this process, feel free to contact Registration & Academic Services at ras@lehigh.edu. 
Alumni may designate a chosen name in the records managed by Development & Alumni Relations by emailing askrecords@lehigh.edu. This will be reflected on all electronic and paper correspondence from Lehigh University.