Artivism
Reclaim.  Heal.  Transform.
2020 Theme:
The 2020 Be Your Own theme asks participants to think about the universal topic of love in any of its different forms -- whether it be the love that we feel for one another, our favorite things, our identities, or ourselves. Let's reimagine what love is, what love means to us, how we feel, and how we express love through the creation of art!
What is it?
Opportunity for campus community members to take action on social issues from a personal and cultural level.
RECLAIM:  Show others what one of our themes looks like or means to you. Define yourself!
HEAL:  Allow art - sculpture, drawing, painting, writing, composing - to help you move through trauma you or loved ones have experienced.
TRANSFORM:  Make visible the future of our community by viewing the art at our exhibit.
When is it?
Creation Spaces to be announced for next semester. (We will have materials. Feel free to bring anything you want!).
If you are an individual with a disability and need accommodations in order to participate in this event, please contact Tess Pyne at tmp218@lehigh.edu in advance.
Who can participate?
All Lehigh community members: Students, staff, and faculty.  Alums: if you're on campus during a creation space, stop in!
How will it happen?
CREATE:  Use our materials (bring your own, if you'd like) to create your representation of one of our year's themes. Use any medium, but know that we may not be able to exhibit some forms such as someone playing your musical compostion.
REFLECT:  Write up a brief artist's statement after finishing your piece. Tell viewer's what you've made, what inspired you, where you'd like it to take the viewer. *
ACT:  Bring friends to the exhibit and develop dialogue as you see your artwork in conversation with the other pieces of art.
*You'll leave your piece and statement with the Room Facilitators, who will log your work so we can return it to you after the close of the Exhibit. Your piece will be up in FML through the summer. If you do not want to use your name, please indicate "Anonymous" when you give your art to the Room Facilitators.
The Center for Gender Equity abides by the Principles of Our Equitable Community. We reserve the right not to exhibit any art that violates the Principles or advocates violence.
If you still have questions... Try our FAQ
Art compels and activism organizes.
2020 BYO student organizers: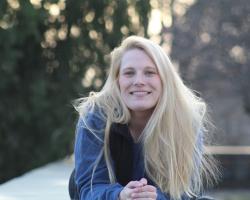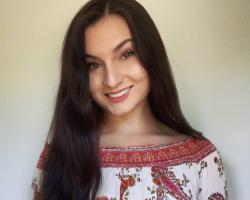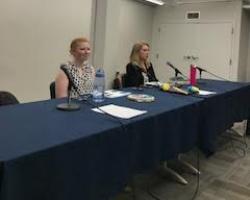 Artivism presented in NYC at the UN
On March 23, 2018 Emily and Madison presented Be Your Own at the NGO Committee on the Status of Women at the UN in New York City. They described BYO as Artivism, a method of expressing the trauma of gender based violence and means of healing and sharing stories. They displayed samples from the exhibit, and described the conceptualization and execution of the progress to emphasize its potential for empowering girls and women, especially in rural and urban areas. Artivism takes an aura of elitism out of art, and empowers girls and women to tell their story through whatever medium is at their disposal.  Emily and Madison facilitated important discussion with audience members to determine how and if Artivism could work in their community.