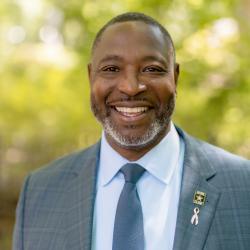 Vice President for Equity and Community, University Diversity and Inclusion Officer
Location:
Alumni Memorial Building, Suite 201
Dr. Donald A. Outing, Ph.D., is Lehigh University's first Vice President for Equity and Community. In this role, he leads institutional efforts to advance its work on diversity, equity and inclusion.
Prior to his appointment at Lehigh, Dr. Outing served as the Chief Diversity Officer and Director of the Office of Diversity, Inclusion and Equal Opportunity for the U.S. Military Academy (USMA) at West Point. He served as the academy's senior leader in coordinating efforts to create a more diverse and inclusive environment, developed and implemented the USMA diversity and inclusion strategic plan, and created an integrated assessment process to measure effectiveness.
Dr. Outing was the founding director for the Center for Leadership and Diversity in STEM at WestPoint; he conceived and implemented an innovative STEM outreach strategy directed at middle school students that impacted more than 10,000 students nationwide.
Dr. Outing earned his Bachelor of Science degree in mathematics from Excelsior College (formerly Regents College), after studying mathematics at the U.S. Naval Academy in Annapolis, Maryland. He was awarded his Masters of Science in applied mathematics and Ph.D. in mathematics from the Rensselaer Polytechnic Institute.
He was certified as a diversity and equal opportunity practitioner in the U.S. Department of Defense in 2015, after completing the Defense Equal Opportunity Management Institute (DEOMI), and received the Commandant's Award for highest overall achievement.
Dr. Outing has more than 34 years of distinguished federal service. He is the recipient of numerous awards to include the Legion of Merit and the Meritorious Civilian Service Award, the National Society of Black Engineers' 2013 Janice A Lumpkin Educator of the Year Award and the 2014 National IMAGE Meritorious Service Award, and the 2014 College For Every Student Mario Peña Award for his work to increase college access and success for underserved youth.