February 06, 2020: Obama, An Intimate Portrait with Pete Souza
University Center 204 M- Room /11:00 am - 12:00 pm
The Office of Multicultural Affairs and BALANCE invite you to join us in welcoming Pete Souza for a moderated discussion with questions and answers about his experience of being former President Obama's personal photographer. Space is limited so please register at http://bit.ly/PeteSouzaQA
February 16, 2020: A Gathering Full of Soul and Soul Food
UMOJA House /5:00 pm - 8:00 pm
Join us for an evening of networking and community building between Faculty, Staff, Alumni, and Students. Share your academic projects, research, internships, and experiences with alumni, faculty, staff, and students. 
A collaboration with the Office of Multicultural Affairs, BALANCE Alumni Network, Black Student Union, College of Arts and Sciences - Africana Studies, and Student Auxiliary Services. Space is limited, please register at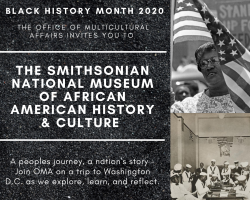 February 21, 2020: The Smithsonian National Museum of African American History and Culture.
Washington D.C. /7:45 am – 9:00 pm
A people's journey, a nation's story - Join OMA on a trip to Washington D.C. as we explore, learn, and reflect. Brought to you by OMA, Student Engagement, Dean of Students, Council for Equity and Community, Africana Studies, and PSECU. 
Space is limited, registration required: http://bit.ly/OMAWashingtonDC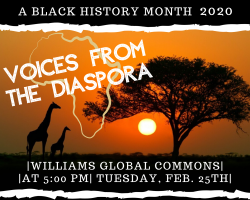 February 25, 2020: Voices from the Diaspora
Williams Global Commons/5:00 pm – 7:00 pm
Join us for a panel discussion with faculty and student experiences. Reflecting on identities within the African American, African, Black, and Afro-Latinx communities. The Office of Multicultural Affairs in collaboration with Africana Studies and Black Student Union.
The Office of Multicultural Affairs in Collaboration with Africana Studies and Black Student Union